CENTRAL CHAIN CONVEYOR
EKF-2
Introduction
The EKF-2 armored conveyor with a central chain of 30x108 covers the top of the range. It is a very robust conveyor. Its transport capacities can reach up to 1,300 t/h and 200m. in length.
Click image to enlarge

Characteristics
The transport channels are manufactured in E74-V profile.
The special characteristics of these profiles, and consequently of the transport channels, make them particularly adaptable for use as pit conveyors capable of supporting high production cutting machines (shearers, plugs..)
Given the modular design of this conveyor, it allows the assembly of two drive heads (four drive groups of up to 160 Kw) or one drive head (two drive groups) and a return and tensioning unit.
With different combinations we can have an installed power from 1x90 kW to 4x160 kW.
Maximum length...................................................................................................................... 200m
Capacity ........................................................................................................................... 1300 t/h
Central Chain Type................................................................................................................ 30x108
Transport speed Z=7; 50Hz.................................................................................................. 0,95m/s
MODELO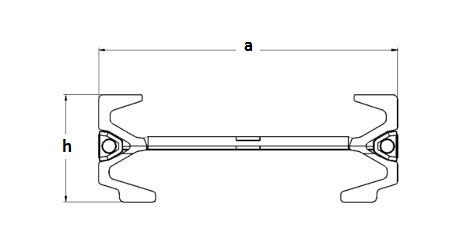 MODELO
CADENA
POTENCIA
(por reductor) Kw
a
mm
h
mm
V m/s
EKF-2
30 x 108
90-132-160
632
227
0,95/1,27

Download commercial description PDF